The best-known occasion of Dr. Eric E. Williams coming close to losing mastery of the People's National Movement (PNM) was back in 1973, when he "resigned", effective upon the party finding a replacement. But, swiftly back he came! To this day, some swear his comeback was galvanized by the Amoco oil find and the hike in oil prices, which combined to give the depleted National Treasury a lifesaving infusion thus, fortuitously for him, some additional breathing space. In the end, it was Karl Hudson-Phillips (who had offered himself as Eric's replacement), who really paid the price. Eric, thereafter, remained leader; till he died.
Dr. Williams's 1981 death forced PNM to find a new leader; makes sense. So it was that one of the PNM's troika of Deputy Political Leaders, George Michael Chambers, took over the rule of the roost.
For a few months George held it together, despite the grumblings of the supporters of Kamaluddin Mohammed and or Errol Mahabir, the "bypassed" Deputies. George reinforced his authority by handsomely winning the 1981 elections, having, electrified, at the eleventh hour, PNM supporters with his impassioned invocation not to give "a damn seat" to the Karl-led Organization for National Reconstruction (ONR); which call, in droves, they heeded.
No surprise, then, that George, thereafter, became (and remained) unquestioned leader of the PNM. Until the PNM lost the elections of 1986, in the National Alliance for Reconstruction (NAR) 33-3 deluge.
But, George was a gentleman: gentlemen prefer blondes, remember? So! George promptly gave up the PNM mantle. Resigned! Went bird-hunting in the Northern Range! Refusing even to entertain the PNM's Women's League's pleadings for him to stay, to reconsider! Thus, again leaderless, PNM had no other option but to hunt as well: for a new leader, its second in less than six years. Enter, eventually, Patrick Augustus Manning, who, were he as gentlemanly as his predecessor, would, too, have resigned in 1995, having yielded control of the government with a full year, yet, to go in his term.
However, Patrick, by that time, had become so drunk with power (some say, also with the feel of power), that he refused to leave. He contrived to fight off a serious leadership challenge, or, better put, a serious challenge to his leadership, mounted by one of his own troika of deputies, Dr. Keith Rowley.
Twelve years have passed since that 1996 Rowley challenge, however, to this day, it's evident, even to cursory observers, that Patrick is afraid of Dr. Keith. What better evidence than that he has never allowed Dr. Keith to hold for him whenever duty requires him abroad to travel.
Trouble is, Dr. Keith, too, is afraid of Patrick, as evidenced by the former's reluctance again to lunge for the latter's jugular.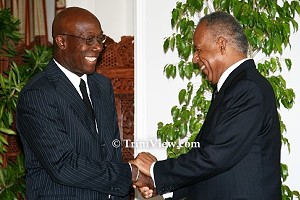 Dr. Keith Rowley and PM Patrick Manning
Guess the country would have to wait for Patrick altogether to collapse, ergo, so, too, would Dr. Keith, for it's clear that Dr. Rowley is afraid of his destiny.